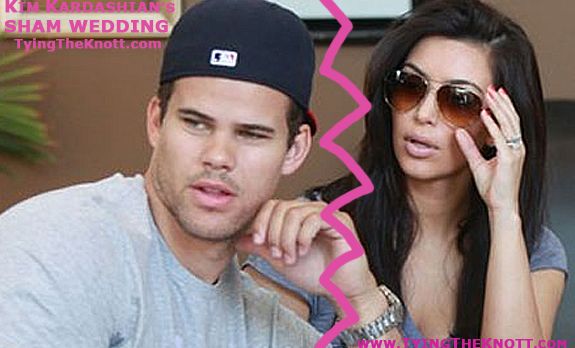 Kim Kardashian Divorce: Should Kim Pay Back Wedding Sponsors? Read The Full Story On TyingTheKnott.com Wedding News
Wednesday, November 2nd, 2011
Article By: Phillip Brunelle
HOLLYWOOD, CALIFORNIA  --  Investors and corporate sponsors paid nearly $20MIL in cash and free products for the sham wedding of Kim Kardashian and Kris Humphries. The wedding only lasted 72 days before Kim Kardashian filed for divorce on Halloween, and Kim debated on the divorce for at least two weeks before filing. This has TyingTheKnott.com wondering if Kim Kardashian should have to pay back her sponsors for every penny they invested into a wedding that was just for television ratings.
As we first reported back on August 30th, 2011 Kim Kardashian made millions from her dream wedding to basketball player Kris Humphries. Today Kim Kardashian herself is trying to put a stop to this so-called "rumor" on her twitter and a statement on her website saying that she didn't make a penny for her wedding.
There are also reports that I made millions of dollars off of the wedding. These reports are simply not true and it makes me so sad to have to even clarify this.
As we reported before, TyingTheKnott.com has received verifiable information that Kim Kardashian has received millions of dollars in free products and events relating to her wedding with Kris Humphries and just as Kim Kardashian has tried to say that our report on her divorce was not true, she is trying to say that our report on the money she made from her wedding is not true.
Isn't it odd how TyingTheKnott.com reported exactly why Kim Kardashian and Kris Humphries were getting divorced days before Kim actually filed for divorce, and everything we reported was seen in the court documents for the reasons she wants a divorce... but yet our report was not true Kim?
Let us remind Kim Kardashian and her fans about just how much money Kim made and how many free things she got, including the wedding gifts from those who attended this sham wedding, who Kim Kardashian said she will not be following proper wedding etiquette by returning the gifts, but instead claims she will donate the value of the gifts to charity.
Here Is The Kim Kardashian Wedding Profit Breakdown Once Again:
Payments The Couple Received:
$15-Million Plus Profit for a 4-Hour, Two-Part Wedding Special on E!

$2.5-Million for Exclusive Photos With PEOPLE Magazine

$300,000 for Exclusive Engagement Announcement With PEOPLE Magazine

$100,000 for Exclusive Rights To Bridal Shower With Britain's OK! Magazine

$50,000 To Have Bachelorette Party at Tao in Las Vegas

Things The Couple Got Free:
$20,000 Hansen's Bakery Wedding Cake

$20,000 Vera Wang Wedding Dress and Fittings

$40,000 for Two More Vera Wang Evening Wedding Dresses

$400,000 In Perrier Jouet Champagne

$150,000 In Hair and Makeup for Photo Shoots and TV "Home Video"

$10,000 In Lehr & Black Wedding Invitations

Over $100,000 In Wedding Gifts From Guests Who Attended The Wedding
This was all previously reported by us on August 30th, and we republished that article here to remind Kim Kardashian of just how "untrue" our reports really are.
In addition to the above, Kim Kardashian and Kris Humphries also got a $2 million 20.5-carat engagement ring and $1 million wedding bands by jeweler Lorraine Schwartz. The amount they paid for these items hasn't been revealed, but it's MUCH less than the wedding rings are worth. Even the $50,000 bachelorette party was sponsored, by Tao of Las Vegas.
Now the question that remains is whether or not Kim Kardashian should have to pay back any of the items and services that she got for free now that Kim Kardashian and Kris Humphries are getting Divorced? Obviously the millions she got from People Magazine for the rights to her photos shouldn't be paid back, but what about everything else?
When a corporate sponsor invests money into an event, such as Kim Kardashian's wedding, they expect for it to be good publicity for their product or services, but is a sham wedding good representation of your product or service? What about the wedding guests, should they get back their wedding gifts, or do you agree with Kim Kardashian's decision to donate the value of her wedding gifts to charity? If you do agree with her giving the value of gifts to charity, shouldn't it be the decision of her wedding guests as to which charity the money goes to? Share your opinion in the comment section below.
If you're not a member of TyingTheKnott.com it's free, fast and easy to join Signup Here or you can comment below by signing in with your Google... Yahoo... or Twitter accounts to comment securely using one of your social media log-ins.
You Can Also Comment Using Our Facebook Comment Section Here:
OTHER ARTICLES TRENDING IN TODAY'S WEDDING NEWS:
Subscribe To TyingTheKnott Wedding News RSS Feed - Subscribe Here