More Kardashian Wedding Drama - Kim Kardashian Caught Cheating... With Justin Bieber..?! Well, Not Exactly, But Wait Until You See The Story We Broke of Kim Kardashian Using Justin Bieber To Help Her Brother Rob Kardashian Cheat Votes On Dancing With The Stars - TyingTheKnott News Has The Full Inside Scoop On The Kim & Rob Kardashian vs. Justin Bieber Reputation Attack Scandal -  Full Story On TyingTheKnott.com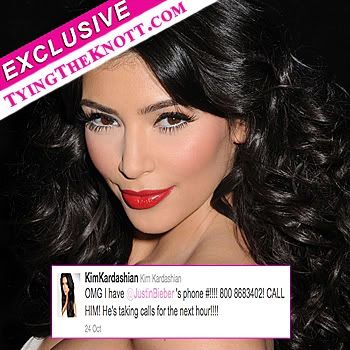 Originally Posted: October 24th, 2011 - 11:31pm
Article Updated:   October 29th, 2011 -   5:24am

Article By: Phillip Brunelle - TyingTheKnott.com Founder

www.TyingTheKnott.com - Lifestyle & Wedding News
HOLLYWOOD, CALIFORNIA  --  We can't get enough of Kim Kardashian, and Kim wishes we would give up. There's more Kardashian drama to report, and this time around Kim Kardashian was caught cheating... No, not on Kris Humphries!
Kim Kardashian made a deal with her brother Rob Kardashian, and the deal went from bad to worse with the quickness of a tweet. In exchange for Rob Kardashian giving a public statement, including one to TyingTheKnott.com Kim Kardashian said she would get Rob votes on Dancing With The Stars.
The rotten deal started with Rob Kardashian releasing statements to TyingTheKnott.com and various news outlets and celebrity gossip websites in an attempt to put rumors to rest about Kim Kardashian and Kris Humphries getting divorced, after we broke the story earlier this week stirring up lots of gossip all over the web. We did not put the story out there since we knew better, but now that we have uncovered a twist to Rob's statement, here we are reporting with more Kardashian drama, once again.
Rob Kardashian released a statement insisting that his sister Kim Kardashian and Kris Humphries are not getting a divorce, and claiming that the newlyweds are just fine, however we knew that Rob's statement was the furthest thing from the truth. In exchange for some sibling love, Kim Kardashian went onto twitter to solicit votes for her brother on Dancing With The Stars... So, what's the big deal?
Kim Kardashian tweeted the personal phone number for Justin Bieber and told all 10MIL of her Twitter followers that Justin Bieber would be taking calls from fans for the next hour... The only problem was that the phone number did not belong to Justin Bieber. TyingTheKnott.com called the phone number, knowing it was an 800 number and couldn't possibly be Justin Bieber, but we wanted to see what Kim was up to now.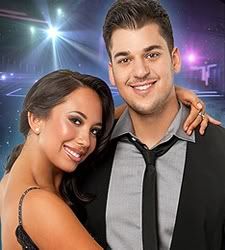 The phone number is registered to the ABC Network television show, Dancing With The Stars, and everyone who got the tweet from Kim Kardashian and called this number, was surprised to see that they were not calling Justin Bieber's phone number, but instead, Twitter followers of Kim Kardashian called a phone number that voted for her brother Rob Kardashian, who is dancing this season on Dancing With The Stars.
Did it seem like a fair trade off to Kim and Rob Kardashian? In exchange for Rob contacting us here at TyingTheKnott.com and other Celebrity News and Gossip websites to tell us that Kim Kardashian and Kris Humphries are a happy newlywed couple and have no plans on getting a divorce, Kim Kardashian did a "favor" (scandal) back for her brother by getting him votes on the celebrity dance show.
We suspect that Kim Kardashian may have had the same, if not a better response from her Twitter followers if she was just honest in her tweet by asking her followers to call and vote for her brother on Dancing With The Stars, but surely when this news gets out and these fans know just how much they mean to Kim that she has lied to them and cheated a national television show to benefit her brother through deceit, we would hope some fans will wake up and see that you are nothing more to her than the support behind her next paycheck and selfish desires.
In response to Rob Kardashian contacting us here at TyingTheKnott.com and other celebrity news and gossip websites, we for one, will not be painting a pretty picture for Kim Kardashian and Kris Humphries' messy marriage, that is sure to head for divorce. You may feel comfortable risking your reputation and cheating votes for your brother, but we are not comfortable deceiving our readers and lowering our credibility for the sake of maintaining your fans and reality television show ratings, sorry.
We have also contacting producers of Dancing With The Stars about the tweet that Kim sent out to over ten million fans, and we're waiting for a response on whether or not this lack of judgement by Kim Kardashian to cheat votes for her brother Rob Kardashian will earn him a disqualification from the show or not. Comment by producers of Dancing With The Stars was not yet available at the time we posted this story.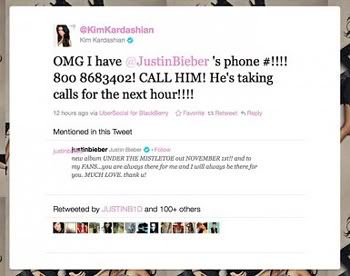 What do you think about this tweet that Kim Kardashian sent out to over ten million of her fans? Do you think people should still follow her on Twitter after she has lied to them for the sake of cheating votes for her brother? Do you think that Rob Kardashian should be disqualified from Dancing With The Stars for the very obvious attempt to cheat thousands, possibly millions of votes? Share your thoughts and opinion in the comment section below, and it's fair to say that your comments just may be seen by the Kardashian's....
To comment you must be a member of TyingTheKnott.com or Sign-In With Yahoo, Google or Twitter Using The Links Below. Not a member? Its quick easy and free to join and use everything on this website, take 30 seconds to SIGNUP HERE and return to this article from our news section on our homepage to post your thoughts, opinion and answer our question of the day. You Can Also Comment Using YAHOO HERE Sign-In With GOOGLE HERE or Comment by Signing In With TWITTER HERE -- Comment below this article, and use the blue toolbar below to share any article on other social sites.

You Can Also Comment Using Our Facebook Comment Section Here:
OTHER ARTICLES TRENDING IN TODAY'S WEDDING NEWS:
Subscribe To TyingTheKnott Wedding News RSS Feed - Subscribe Here