Vera Wang & David's Bridal Sales Plummet After Kim Kardashian Divorce - Full Story On TyingTheKnott.com Wedding News

Wednesday, November 2nd, 2011
Article By: Phillip Brunelle
HOLLYWOOD, CALIFORNIA  --  The 72-day marriage of Kim Kardashian and Kris Humphries doesn't quite take the celebrity divorce record from the 72-hour marriage of Britney Spears, but as TyingTheKnott.com reported earlier, there will surely be some individuals and corporations who will suffer the consequences from the divorce of Kim Kardashian and Kris Humphries.
Celebrity wedding dress designer Vera Wang designed three wedding gowns for Kim Kardashian with an estimated value of $20,000 each dress. Much like many items and services Kim and Kris got for free, Vera Wang provided these three wedding dresses free of charge to Kim Kardashian, and may have even had a deal in place for a cut of the future profits of sales in February 2012 when Vera Wang is expected to release a bridal collection, of which includes two of the three wedding gowns that Kim Kardashian wore during her sham wedding.
Traditions such as the wedding phrase "Something Old, Something New, Something Borrowed, Something Blue" have been around for years, as have superstitions that brides have when it comes to their wedding day. With the recent divorce of Kim Kardashian and Kris Humphries, surely there will be many brides thinking that the Vera Wang designed wedding dresses are bad luck seeing how Kim and Kris divorced only 72 days following their wedding day.
One very well known superstition is that no bride should ever wear the wedding dress of another bride whose marriage ended in divorce, it's simply bad luck according to this longtime wedding superstition, and this spells bad luck for the February 2012 sales for wedding dress designer Vera Wang, and also David's Bridal, the retailer who will be offering an economy line of Vera Wang wedding dresses, including two versions of the wedding dresses that Kim Kardashian wore on her sham wedding day.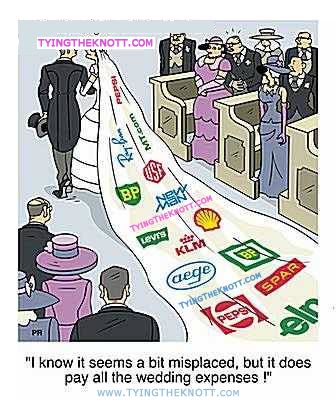 With this in mind, TyingTheKnott.com asked whether or not Kim Kardashian should have to pay back all of the money in free products and services she received for her sham wedding - Article Here - And with this story, certainly now you understand how not only could a failed marriage, especially one ending as short as Kim and Kris who filed for divorce after only 72 days of marriage, is just simply bad publicity for any individual or corporation who paid Kim Kardashian or offered free products or services for Kim and Kris' wedding day in exchange for free publicity / advertising of their products or service.
Vera Wang and David's Bridal are just two of many individuals and retailers who will suffer losses relating to Kim and Kris Divorcing. The Kim Kardashian wedding dresses that are scheduled to be released for sale in David's Bridal stores in February 2012 were expected to reach profits in the tens of millions of dollars from brides-to-be who wanted a piece of Kim Kardashian's so-called dream wedding, but with news of Kim and Kris' Divorce, and rumors saying the wedding was a sham and publicity stunt from the beginning, those sales are no longer expected to reach such numbers, especially not from superstitious brides, or brides with a conscience who just simply don't want to invest their money and wedding dreams into anything to do with Kim Kardashian.
We released an article days before the celebrity couple announced anything other than a "happy marriage", and just a few days before Kim Kardashian filed for divorce on Halloween, after we heard from sources close to the Kardashian's and a ball playing buddy of Kris Humphries with the reasons why we felt that Kim and Kris were headed for divorce court - Article Here - And now we want to hear the views and opinions of her fans and everyone else to see just what you think.
Would you buy a wedding dress that was originally designed for Kim Kardashian knowing about the divorce superstition that a bride should never wear a wedding dress of another bride whose marriage ended in divorce? If not, now you know just why we are also asking in This Article whether or not Kim Kardashian should have to pay back the money for free products and services, and possibly even be sued for damages from the individuals and retailers who invested into Kim and Kris' sham wedding.
Share your opinion in the comment section below. If you're not a member of TyingTheKnott.com it's free, quick and easy to join - Signup Here - Or comment by signing in with your Yahoo... Google.... or Twitter accounts to comment securely using another social media website. TyingTheKnott.com is a trusted source of wedding news and a free social networking and wedding planning community.
You Can Also Comment Using Our Facebook Comment Section Here:
OTHER ARTICLES TRENDING IN TODAY'S WEDDING NEWS:
Subscribe To TyingTheKnott Wedding News RSS Feed - Subscribe Here