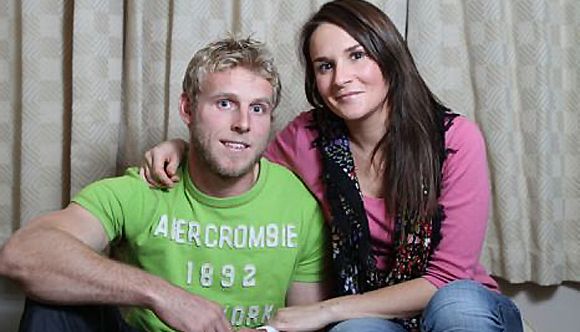 Paralyzed Bride Stunned Wedding Guests After Walking Aisle At Her Wedding - Full Story On TyingTheKnott.com
Wed, November 23, 2011
Article By:  Phillip Brunelle
UNITED KINGDOM -- The bride looked stunning as she walked down the aisle on her wedding day, but her wedding guests were stunned, because she was paralyzed and told she'd never walk again.
The 29-year-old bride,Victoria Royle of Widnes, Cheshire - United Kingdom was frozen inside her own body by a paralyzing illness. Doctors diagnosed her with Guillain-Barré Syndrome, a nerve disease that only affects about 1 in 50,000 people. Doctors said she would never walk again, but when it came to planning her dream wedding, nothing could keep this bride stuck in a wheelchair. Victoria Royle defied the odds and walked down the aisle on her wedding day, despite the doctors predictions.
The discovery of Guillain-Barré Syndrome went unnoticed, until just over a month after she first begun dating her newlywed husband, 27-year-old professional rugby player Nick Royle. The couple was out at a local pub when Victoria Royle struggled to carry a tray and was suddenly struck with a crippling pain, with a pins and needles sensation traveling down her legs. Within hours her then-boyfriend, Nick Royle and her parents, were all at her bedside in the hospital as Victoria Royle fought for her life.
"I was locked in my body – I couldn't move, I couldn't communicate – and the pain was so bad I was sure I was going to die." Victoria Royle said. But after eight long weeks in the hospital, Victoria Royle was out of the woods and told she would survive the commonly fatal disease, but the doctors also told her that she would leave the hospital in a wheelchair, and would never walk again.
After she was released from the hospital, Victoria Royle went through intense physical therapy and medical procedures. She recovered her breathing and speech after a couple months, and the whole time Nick Royle was right there supporting and encouraging her. Nick invested countless hours every day into helping Victoria to slowly learn to walk again.
Several months later, Nick Royle surprised Victoria when he popped the question, asking Victoria to be his wife. She of course agreed, and Victoria was more determined than ever not to be in a wheel chair on her wedding day. "Being stuck in a chair for the rest of my life wasn't an option for me and when Nick proposed, I was determined to walk down the aisle without a Zimmer frame." Victoria Royle said.
Over the next several months Nick and Victoria Royle struggled to save money to plan the most perfect wedding day. The couple had both missed so much time from work, and didn't know how they would make ends meet while trying to put money aside for their wedding. This is when Nick Royle contacted producers of a UK television show called Don't Tell The Bride, a show that provides engaged couples with £12,000 on the condition the groom secretly plans the wedding day without the bride knowing anything.
Just as Victoria Royle was slowly making progress with her efforts to walk again, there was more good news on the way, the couple had won a place on the television show. Nick Royle worked along-side producers and wedding organizers, and successfully planned their wedding day in secret. The United Kingdom audience of the 'Don't Tell The Bride' television show will hear Victoria's story and watch the secret wedding of Nick and Victoria Royle when an episode is televised next week.
Whoever said that paralysis will keep a bride from making her dream wedding a reality has another thing coming to them. Nick Royle may have surprised his bride with a secret wedding, but Victoria Royle stunned her wedding guests and left doctors speechless when she walked down the aisle on her wedding day - once a paralyzed bride-to-be, now living the reality of a dream come true after defying the odds against her. First surviving a commonly fatal disease, and then putting the final touch to her dream wedding by walking down the aisle after being told she would never walk again.
"My wedding day was perfect – it was so emotional walking down the aisle when two years earlier I didn't know if I'd ever walk again." Victoria Royle said. "Nick has been my rock and I feel like the luckiest woman in the world to have him and my health."
We're interested in hearing what everyone else thinks, please share your opinion in the comment section below by using our Facebook comment section, or Signup Here to join TyingTheKnott.com and comment in the members comments section below.
You Can Also Comment Using Our Facebook Comment Section Here:
OTHER ARTICLES TRENDING IN TODAY'S WEDDING NEWS:
Subscribe To TyingTheKnott Wedding News RSS Feed - Subscribe Here