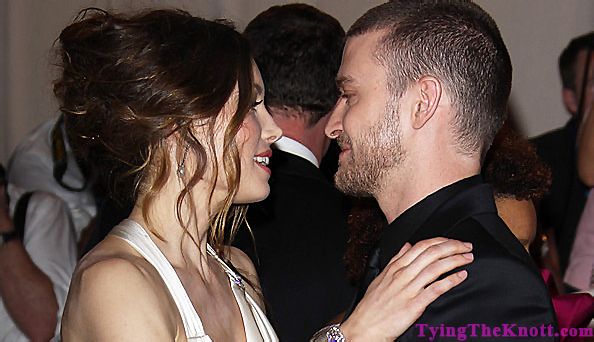 Celebrity Couple Justin Timberlake and Jessica Biel Are Planning A Wedding - Story On TyingTheKnott.com Wedding News.
Sunday, December 4th, 2011
Article By: Phillip Brunelle
HOLLYWOOD, CA  --  Wedding bells are ringing in the ears of Justin Timberlake... or are Justin's ears just ringing from the nagging of his girlfriend, Jessica Biel - telling him she wants a family and for him to marry her?!
"Barring a last-minute disaster, they will be announcing their engagement in the near future," an insider told TyingTheKnott.com. The source tells us that Jessica Biel not only wants to plan a wedding with Justin Timberlake, but she wants to start a family too. "She's changed her diet and exercise routine so she can get pregnant as soon as possible." according to the insider.
Recently, gossip has been afloat the internet saying that Jessica Biel wears the pants in her relationship with Justin Timberlake, and with the recent rumors by this inside source, we wanted to see what Jessica Biel had to say. "Sure, of course. I think probably at some point it would be something I'm interested in. But I don't feel pressure," she said in response to questions about if she feels under pressure to start a family with Justin Timberlake.
Jessica Biel and reps for Justin Timberlake will not comment on the insiders claim, saying that if Justin doesn't put a ring on it, Jessica will move on, but with confirmation on her intentions to start a family, we believe a wedding in the near future might actually be true.
The insider also said that Justin Timberlake would marry Jessica Biel if he's pressured into it. "Justin thinks marriage would hurt his career, but if Jessica threatened to leave, he'd do it," according to the source, who all we can say is a confirmed 'friend' of Jessica Biel.
There's no word of a wedding yet from the celebrity couple, but TyingTheKnott.comwill be on the Justin & Jessica wedding watch and we will bring you more details when they become available.
Would Getting Married Hurt Justin Timberlake's Career?
Please Let Us Know What You Think By Commenting Below. If You're Not Yet A Member of TyingTheKnott.com -- Join & Use Our Wedding Planning & Social Networking Community -- Free For Brides, Grooms, Wedding Professionals & Anyone Else - Just Signup Here.
You Can Also Comment Using Our Facebook Comment Section Here:
OTHER ARTICLES TRENDING IN TODAY'S WEDDING NEWS:
Subscribe To TyingTheKnott Wedding News RSS Feed - Subscribe Here