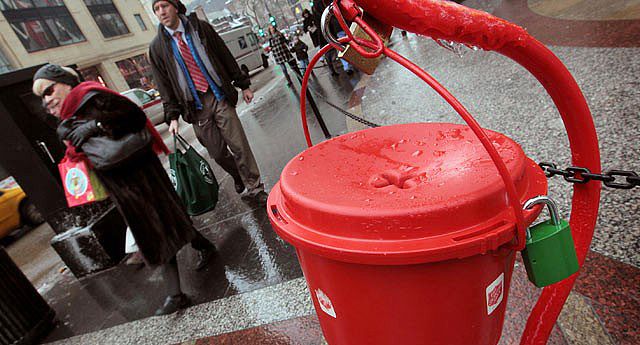 Wedding Rings Were Found In Salvation Army Donation Kettle - Was It An Accidental Donation or Were The Wedding Rings Donated With Good Will In Mind This Holiday Season? Read The Full Story Here On TyingTheKnott.com Wedding News.
Tuesday, December 20th, 2011
Article By: Phillip Brunelle
RALEIGH, NORTH CAROLINA  --  A set of wedding rings were wrapped inside a ten dollar bill and put into a Salvation Army donation kettle. Now everyone is wondering if the wedding rings were an accidental donation, or if someone just had a better place in mind for the jewelry this holiday season.


When workers with the Salvation Army were counting donations this weekend, they were too excited at what appeared to be diamond rings, and they quickly wrote down which kettle it came from. "It's amazing," said spokeswoman Haven Sink. "This is definitely a first."

Non-cash donations with big price tags have popped up in Salvation Army kettles in several cities this year, including a $2,000 diamond and sapphire ring in Miami that was tucked inside a $50 bill; a 3/4-carat diamond ring outside Kansas City; and a $1,700 gold coin stuffed in a $5 bill in Alberta.

"Trinkets sometimes slip into Wake County kettles," said Sink, "but nothing on the order of a diamond ring." Once it's determined that nobody accidentally lost their wedding rings in the donation kettle, the Salvation Army will look to have the rings appraised.

The set of wedding rings look a bit time-worn, the edges on the white gold band and engagement ring looks smooth, but the stone itself appears to an untrained eye to be substantial enough to value at least into four figures. The wedding rings will be appraised and converted to cash, and wherever they came from, the engagement ring and matching wedding band stand as a reminder that generosity hasn't disappeared this holiday season - even in a down-year for donations.
UPDATE: Wedding Rings Being Donated All Over The United States -- Full Story Here
WHAT DO YOU THINK?
Share your opinion in the comment section below. Members of Tying The Knott can comment in the members comment section below, and if you're not yet a member you can Join Here- It's free and quick to signup - or you can comment using the Facebook comment section just below here...
You Can Also Comment Using Our Facebook Comment Section Here:
OTHER ARTICLES TRENDING IN TODAY'S WEDDING NEWS:
Subscribe To TyingTheKnott Wedding News RSS Feed - Subscribe Here