Thief Was Arrested After Proposing To His Girlfriend With A Stolen Engagement Ring - He Couldn't Afford The Ring And Decided To Run Out of The Jewelry Store With It - Read The Full Story Here On TyingTheKnott.com Wedding News
Friday, December 30th, 2011
Article By: Phillip Brunelle
BURLINGTON, VERMONT  --  Tis the season for marriage proposals and wedding planning, and Amber LaFountain was excited when her boyfriend Ryan Jarvis proposed to her, but her happily ever after was short-lived when she came to find out that the engagement ring was stolen.

Ryan Jarvis was ring shopping at Zales jewelry store in Burlington, Vermont on December 26th. Zales store employees told police he was perusing the engagement ring selection for over an hour, at one point asking to compare the rings, but the clerk didn't allow him to do.

"The male asked to see a 14K white gold 1-carat diamond solitaire engagement ring valued at $3,199. The engagement ring has four prongs cradling the diamond," according to an affidavit from the Burlington Police Department. "After looking at the ring briefly he ran east out of the store and through the mall." With the engagement ring in hand, Ryan Jarvis managed to escape the mall.

As police dusted the jewelry cases looking for finger prints and began their investigation, Ryan Jarvis took Amber LaFountain out for dinner, where he proposed to her with the stolen engagement ring. She accepted his proposal and was so excited to tell everyone that Amber LaFountain posted a photo of the engagement ring on her Facebook page.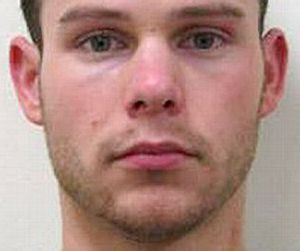 Burlington Police released information about the stolen engagement ring on the local news and multiple anonymous callers reported information to the police, including three of Amber LaFountain's own friends, who all identified her would-be fiance, Ryan Jarvis as the thief.

When police arrived at the home of Amber LaFountain, they found her outside. She confirmed that she had just got engaged the previous evening, and had the engagement ring with her. She said it didn't fit, and she and Ryan Jarvis have to take the ring to get sized.

"While speaking with Amber LaFountain she spontaneously asked if Ryan Jarvis had stolen the engagement ring," Burlington Police Officer Jesse Stewart wrote in the affidavit. "I asked her why she thought that and she reported that they didn't have a lot of money, and that she assumed so since the police were there."

Amber LaFountain handed over the engagement ring to officer Jesse Stewart and it matched the photo and serial number provided by Zales jewelry store. Moments later, Ryan Jarvis came outside of the house and admitted to stealing the engagement ring.

"Ryan Jarvis advised that he selected an engagement ring but knew that he could not afford it," police officer Jesse Stewart wrote. "He reported that he considered financing options but concluded that he would be unable to afford the ring he wanted."

Ryan Jarvis reported to police officers that he ran out of the jewelry store with the engagement ring, and said he knew it was a stupid thing to do. He was arrested and charged with felony retail theft.
WHAT DO YOU THINK?
Share your opinion in the comment section below. Members of Tying The Knott can comment in the members comment section below, and if you're not yet a member you can Join Here - It's free and quick to signup - or you can comment using the Facebook comment section just below here...
You Can Also Comment Using Our Facebook Comment Section Here:
OTHER ARTICLES TRENDING IN TODAY'S WEDDING NEWS:
Subscribe To TyingTheKnott Wedding News RSS Feed - Subscribe Here