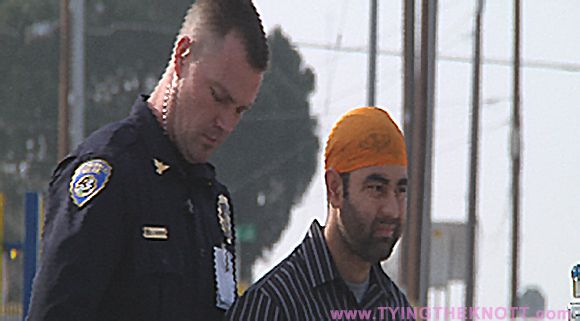 Gunman In Custody After Shooting Into Crowd of Wedding Guests During New Years Eve Wedding In A California Temple.   One Man Shot But No Serious Injuries Reported - Read The Full Story Here On TyingTheKnott.com Wedding News.
Sunday, January 1st, 2012
Article By: Phillip Brunelle
BAKERSFIELD, CA -- The new year brings new beginnings, but sometimes they aren't the happiest of times. A gunman has been arrested in California, after crashing a wedding and firing a gun into the crowd of guests attending the wedding, following an argument.

Bakersfield Police were called to a report of shots fired at the Gurdwara Sikh Temple Saturday afternoon. Investigators determined that one man had been shot at and the alleged gunman was still inside the temple upon arrival.

The shooting happened right after the wedding ceremony ended and over 150 guests were being dismissed from the temple. Police said 34-year-old Hardial Singh got into an argument with the victim inside the temple. The argument moved outside and Singh fired a single shot at the ground near the victim's feet.

Police said Hardial Singh had a .380 caliber handgun in his waistband, and they arrested him for assault with a deadly weapon. The bride, groom and other guests attending the wedding were not injured in the shooting, and although shaken up, they continued on to the wedding reception following the shooting.
WHAT DO YOU THINK?
Share your opinion in the comment section below. Members of Tying The Knott can comment in the members comment section below, and if you're not yet a member you can Join Here- It's free and quick to signup - or you can comment using the Facebook comment section just below here...
You Can Also Comment Using Our Facebook Comment Section Here:
OTHER ARTICLES TRENDING IN TODAY'S WEDDING NEWS:
Subscribe To TyingTheKnott Wedding News RSS Feed - Subscribe Here