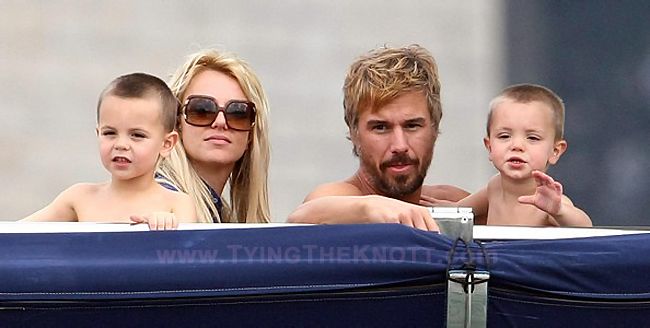 Britney Spears Is Planning A Simple Country Wedding For Her Third Marriage - Will The Third Time Marriage Be A Charm For Britney Spears, or Is Marrying Jason Trawick Another Wedding Mistake? - Full Story On TyingTheKnott.com Wedding News.
Sunday, January 1st, 2012  ---  Article By: Phillip Brunelle  ---  www.TyingTheKnott.com  ---  Celebrity Weddings

HOLLYWOOD, CALIFORNIA  --  For some, a wedding day comes once in a lifetime, but not in Hollywood. Britney Spears is planning her third wedding with her fiance, Jason Trawick, and she is hoping not to repeat her past mistakes, such as her 55-hour marriage to her childhood friend Jason Alexander and her second marriage to Kevin Federline -- which ended in a nasty divorce.

This means that a Las Vegas style wedding is out of the question -- and there is no chance of a lavish Hollywood style celebrity wedding either, according to Britney's rep. Leaving one option for Britney Spears and future husband Jason Trawick, a simple country style hometown wedding.

According to an insider close to the pop princess, Britney is aiming for a decidedly country setting wedding. "She wants a traditional Southern-style wedding with comfort food, surrounded by her family, her two sons and all of her childhood friends, as opposed to a lavish Hollywood wedding. Britney is taking this marriage really seriously."


While some media outlets are questioning whether or not the style and location of Britney Spears wedding will determine the success of her marriage, TyingTheKnott.com is wondering whether or not the wedding is a good idea. With so much scrutiny in the not so distant past, is the engagement of Britney Spears and Jason Trawick a healthy situation?

Jason Alexander, the first man that Britney Spears married back in 2004, said he believes the engagement and wedding of Britney Spears and Jason Trawick is fake - Article Here - While some believe that Jason Alexander, the 55-hour husband, is just jealous, he's challenging everyone to look up photos of the engaged couple to see whether or not the couple ever appears to be happy, or if they even look like an average couple would.

Aside from appearances, keep in mind that Jason Trawick was an entertainment manager for Britney Spears, until the two removed that professional relationship after becoming engaged. This has ex-husband Jason Alexander concerned that Britney Spears may have so little control over her actions, and her life, that she's marrying Jason Trawick to secure complete control over her life, and to remove that responsibility from her father, Jamie Spears, who was awarded conservatorship over Britney Spears by the court.

While Britney Spears and Jason Trawick have not announced a wedding date, it's believed the celebrity couple will be getting married sometime this year. Unless a source slips the wedding details to the media, we suspect that with the style and location of this wedding that Britney Spears will maintain secrecy surrounding the exact location and date for the big day.
WHAT DO YOU THINK?
Share your opinion in the comment section below. Members of Tying The Knott can comment in the members comment section below, and if you're not yet a member you can Join Here- It's free and quick to signup - or you can comment using the Facebook comment section just below here...
You Can Also Comment Using Our Facebook Comment Section Here:
OTHER ARTICLES TRENDING IN TODAY'S WEDDING NEWS:
Subscribe To TyingTheKnott Wedding News RSS Feed - Subscribe Here