When planning your wedding, don't forget about the special man in your life. Some of the important details every bride plans is the wedding decor, including flowers. You see flowers in every wedding, from the beautifully decorated wedding ceremony and reception venues to the bride and bridesmaids bouquets and the flowers on the groom & groomsmen suits, known as boutonnieres, or buttonholes.
Choosing the flowers for the wedding can be done in many ways, like going along with your wedding color palette, wedding theme, or even the season of the year. A boutonniere in one of the smallest touches in wedding decor and fashion, but it's the small personal touches in a wedding that stand out most. Here are some popular choices of flowers to choose from for your wedding, including boutonnieres using simple and elegant flowers and ideas for unique and exotic boutonnieres flowers.
BOUTONNIERES WITH PURPLE FLOWERS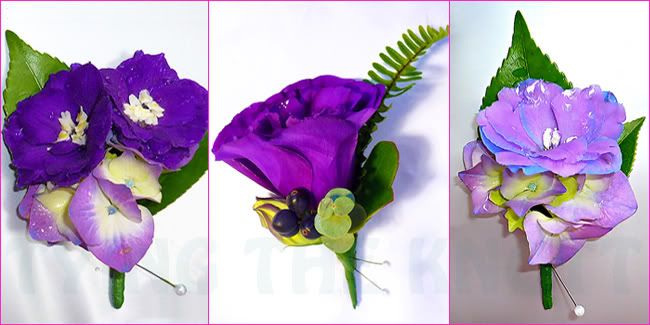 In the pictures above you will see some flower selections using purple flowers for boutonnieres. The first picture on the left side is a small floral arrangement with deep purple delphinium and hydrangea flowers. The middle picture (above) is a purple Lisianthus groom's buttonhole detailed with ladder fern, eucalyptus and berries. The picture (above) on the right is much like the first boutonniere, except it's using a pale purple delphinium and hydrangea. 
 Wedding Tips: The lighter boutonnieres blend in nicely with lighter suits and stands out more with black or dark fabric suits. If you want these small, but beautiful details to be noticed, use opposite color tones - lighter flowers or at least light toned floral accents if grooms and groomsmen suits are dark, and darker flowers or floral accents behind the main flower in the boutonniere if your groom and groomsmen are wearing suits with lighter fabric colors.
SIMPLE &  SOFT BOUTONNIERES
Much like the photos with the purple flowers above, these boutonnieres in this picture (above) offer a selection of similar flowers but in different colors and styles. The first picture (above left) is a buttonhole using antique blue hydrangea and camellia leaf.
The middle picture (above) is a white lisianthus rose boutonniere. The last picture (above right) is the same flower arrangement as the first picture (above left) but using a different color, antique green hydrangea and camellia leaf.
WILDFLOWERS & EXOTIC BOUTONNIERES

Looking to style your wedding venue and accent your grooms suit with more exotic flowers? Consider these flowers used in the grooms & groomsmen above. The first picture (above left) is a cymbidium orchid which definitely has an exotic wildflower appearance.
The middle (above middle picture) boutonniere is a fuchsia cymbidium, the same type of flower as the boutonniere to the left of it, although it looks entirely different, the colors are just reversed using the white as the accent color while this exotic flower boldly stands out with a beautiful fuchsia color, absolutely a perfect boutonniere if your wedding color scheme is similar to this fuchsia flower.
The third boutonniere (above far right) is another beautiful and unique style for a boutonniere. This floral arrangement is complete with a flame calla lily and red freesia, with seeded eucalyptus on galax leaf. The colors of this boutonniere compliment wedding color schemes with red, orange and yellows.
EXOTIC & SEASONAL BOUTONNIERES
Hey grooms! Try these boutonnieres on for size. In the pictures above again we use two examples of the same flower with different colors. Many flowers offer an abundance of flexibility is their colors and styles, so before you change your mind on any particular flower, look further into things to see your choices in color and how any flower you are considering can be arranged in a boutonniere.
The boutonniere on the left (far left in picture above) is a pink calla lily buttonhole with camellia leaf. The middle boutonniere above is a perfect example of how a flower can easily be available in different colors and be arranged to compliment any color scheme or wedding theme. This boutonniere (middle picture above) is a black calla lily, the same flower as the boutonniere to the left of it. This boutonniere arranged with antique coffee metalina arose, viburnum berry, birch twigs and ivy leaf. A perfect boutonniere for an autumn (fall) wedding, or weddings with a dark and rich color scheme.
The boutonniere in the last picture (far right picture above) is a wedding floral arrangement with pale pink Singapore orchids arranged with Singapore foliage. This boutonniere is versatile with exotic flowers that would compliment any wedding theme and most color schemes, and keep in mind that you can dress these exotic orchids with any other foliage, leaf, twig or smaller back-set flowers so that these boutonnieres perfectly compliment your wedding colors or theme.
  Wedding Tips: If you desire a particular flower that doesn't quite match your weddings color scheme, you can always accent the flower with some leaf or smaller flowers in a floral arrangement with colors that add the perfect touch that helps it to compliment the color scheme of your wedding.
ELEGANT & UNIQUE BOUTONNIERES
You can also choose an arrangement of flowers with a combination of common and exotic flowers such as the boutonniere that you see above (last boutonniere on the far right) which is a floral arrangement including a pink rose, a white orchid, fern and foliage, which presents as a simple and elegant boutonniere with an exotic touch.
In the first photo (above on the left side), this buttonhole (boutonniere) is using cream freesia, with fern and bud detail. The combination of green, white and yellow, and also the style appearing as soft and simple gives this boutonniere a very natural and earthy feel to it.
The middle boutonniere (middle picture above) can be used to compliment the color scheme of your wedding, or could also be used for seasonal weddings. Its another wildflower arrangement using an orchid. These are very beautiful and unique flowers and stand out much more than your typical roses and carnations that are used very commonly in weddings.
AUTUMN WEDDING BOUTONNIERES
The boutonnieres in the pictures above are some ideas for flowers that would perfectly compliment an autumn (fall) season wedding. These boutonnieres can be used anytime of year and can always be arranged anyway you would like, as I have explained earlier, but they would be great if your wedding is during an autumn month. The boutonniere seen in the middle (middle picture above) can be used in the fall or winter with the way it's arranged in the photo. It's arranged using alstromeria flowers.
The first photo (shown above) is technically considered a yellow rose, however the shade is a cross blend between yellow and fire yellow. This color would work great for a wedding with yellow, brown or orange color schemes since it's shade is versatile. A rose is a common and simple flower selection, but when you find an uncommon color, it turns something common or simple into a unique boutonniere.
The last picture (shown above) as a flowerless boutonniere. Using twigs, acorns, berries, dried weeds and grass, you can create unique and stylish boutonnieres that are flowerless, but equally as beautiful.
  Wedding Tips: Many brides play it safe when it comes to bouquets and boutonnieres by using common flowers and even their "favorite" flower, but when it comes to your wedding think outside the box. Exotic flowers might cost you a bit more, but when it comes to these small details of your wedding, you would be surprised how much these small floral details are noticed and appreciated by your wedding guests.
A FEW OF OUR FAVORITE BOUTONNIERES
The boutonnieres in the pictures above are some beautifully arranged flowers that just might compliment your wedding theme or color scheme perfectly. The first picture (above picture far left side) is a wedding floral arrangement with orange spray roses, green button mum, green hypericum and smilax. The flowers in this boutonniere will add a vibrant touch to the right wedding.
The second picture over from the left is a floral arrangement of lavender sweetheart roses, purple wax-flower, and purple limonium, all nestled in a crystallized filigree holder and would be the perfect boutonnieres for weddings with purple and blue color palettes, just as the fifth photo over from the left would accomplish, a boutonniere with a combination of lavender sweet pea, cushion pompon and veronica flowers. A beautiful arrangement of flowers for pink and purple wedding color palettes.
The third boutonniere (third over from the left in pictures above) is a simple and elegant flower arrangement using lilies. White flowers can easily be used with any wedding color palette and can be arranged with any other flowers or floral accents to perfectly match your wedding colors. The next boutonniere is a very pretty flower arrangement that would be the perfect touch to weddings with yellow color schemes or weddings that just want the perfect touch of yellow. These boutonnieres are arranged with yellow alstromeria flowers, with a accents using ruscus leaves and rosehip.
The last flower arrangement is a unique blend of flowers and craft using antique blue hydrangea petals mixed with a paper rose, accented with brown velvet leaves, and wrapped with a blue and gold trimmed ribbon. If your wedding color palette has brown, blue, white and yellow colors, this boutonniere might be an arrangement of flowers that adds a unique touch to your wedding.
What do you think about these boutonnieres? Is there one that you would consider using for your wedding? Is there another color palette you have for your wedding that isn't in this article? Share your thoughts and comments below. If you're not yet a member of TyingTheKnott, our website is completely free to brides, grooms and wedding vendors. Everyone joins and uses our website free, we never change anyone a penny for anything!  Join TyingTheKnott Here
Wedding Article by: Phillip Brunelle - Creator & Founder of TyingTheKnott
© COPYRIGHT 2011 - TyingTheKnott - Intellectual Property Protected by United States Copyright Laws
__________________________________________________________________________________________
Want More Wedding Inspiration Ideas & Wedding Tips? Click Here

BLOG BY  Phillip Brunelle  |  POWERED BY  TyingTheKnott  |  BLOG RSS FEED  Click Here To Subscribe
________________________________________________________________________________