They may have thought their romantic getaway would be paparazzi free, but guess again... Photog's caught up with Kim Kardashian and new hubby Kris Humphries on their honeymoon in Italy, and we have the honeymoon pictures!
Kris Humphries: Probably Worried Paparazzi Will Get A Picture of Drooling Over His Food More
Than He Does His New Wife Kim Kardashian - Don't Worry Kris, We're Just Enjoying The View.
Kim Kardashian and Kris Humphries Are Caught In This Picture Above Getting Right To
Business With Their Plans To Bring A Baby Into The World. Aww, How Cute It Is.....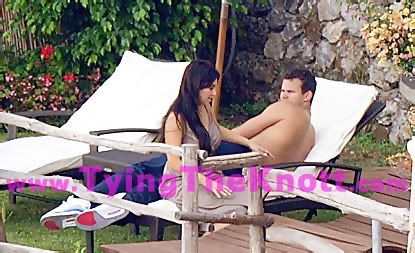 To Comment On The Kim Kardashian and Kris Humphries Honeymoon Pictures Sign Up Here and Get More Celebrity Wedding Gossip and Wedding News Here On TyingTheKnott by Subscribing To Our Wedding News RSS Feed Here. TyingTheKnott Is A Free Wedding Community For Brides and Grooms and The Newest Source of Daily Wedding News - Including Celebrity Weddings!