A wedding trend this fall is to combine typical autumn colors with jewel tones, creating a wedding color scheme that has a seasonal autumn theme with a unique touch of vibrant colors.
The most common fall wedding colors are just of those you would typically see on trees during autumn foliage, like green, orange, yellow, brown, and red, and many fall weddings follow the typical trends when it comes to their bouquets, flower arrangements, and other wedding decor to set the mood with an autumn wedding color scheme, but this fall a new wedding trend has surfaced that has more and more couples planning their weddings using typical fall colors, and combining them with jewel colors for a very beautiful and unique wedding color scheme.
ORANGE & PURPLE FALL WEDDING COLOR SCHEME
Combine autumn colors using orange and purple and you get a cute, playful and vibrant wedding color scheme while still maintaining a fall wedding theme. There are many shades of purple to choose from and many floral arrangements that can be designed using flowers with shades of purple and orange.
TEAL & ORANGE FALL WEDDING COLOR SCHEME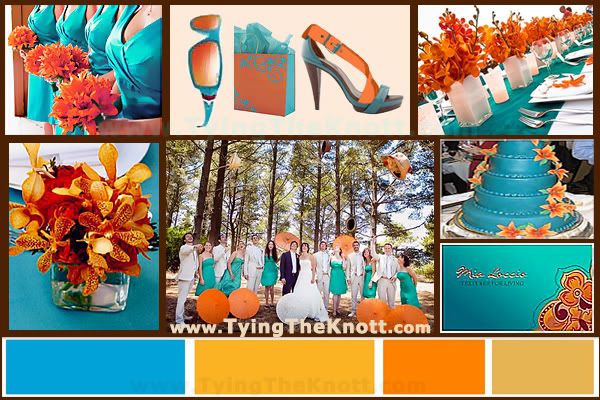 As you can see in the wedding inspiration board above, combining a jewel tone teal or any shade of blue with orange, brown and typical autumn colors creates a really nice autumn wedding color scheme. Bouquets and flower arrangements can be designed with orange and blue flowers, some flowers you can consider using are orange and tiger lilies, Strelitzia, orange and peach roses, and orange gerbera daisies. A few teal flowers include carnations and teal blue carnation spray, teal freesia, magnolias, and there are duck egg blue orchids that beautifully compliment teal and orange fall wedding color schemes.
COMBINE PINK WITH AUTUMN COLORS
Pink and yellow jewel tone wedding color schemes are common in the spring, but when you change the shades and combine pink & yellow with touches of orange and/or brown, it creates a unique autumn wedding color scheme, shown above in the pink, yellow, brown and orange wedding inspiration board.
No matter what colors you are considering for your fall wedding, if you are planning an autumn themed wedding, you can combine common fall foliage colors with any other jewel tone color scheme. It may take some time to find just the right shade to compliment the other colors, but it's time well spent and you will certainly wow your wedding guests with a unique wedding color scheme.
Are you planning a fall wedding and have thought of a unique combination of colors for your wedding color scheme? Or are you planning any seasonal wedding with a unique color scheme? Share your wedding colors or ideas to help brides planning their weddings in the comments section below.
YOU MAY ALSO LIKE THESE WEDDING ARTICLES:
        TIPS FOR EMOTIONAL BRIDES                VERA WANG WEDDING DRESSES                WEDDING STORY MIKE & DAN
BLOG BY 
Phillip Brunelle
|
POWERED BY
TyingTheKnott
|
BLOG RSS FEED
Click Here To Subscribe