A Los Angeles, California Wedding Photographer, Alan Carruth, has been sentenced to 510 days in jail after cheating at least 42 newlywed couples out of their wedding photos. Read The Full Story Here On TyingTheKnott.com Wedding News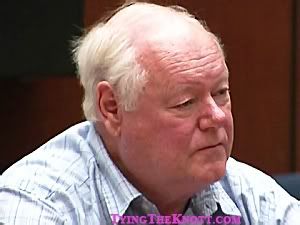 Friday, October 21st, 2011
Article By: Phillip Brunelle
LOS ANGELES, CALIFORNIA -- Brides and grooms endure the chaos of planning their wedding day, and a lot of thought is put into every little detail of this special day, but after your wedding day has come and gone, does the chaos really end? Not for 42 newlywed couples, whose experience with a Los Angeles wedding photographer has turned their dream wedding into a nightmare.
Wedding photographer Alan Brent Carruth pleaded no contest to eight counts of grand theft earlier this year. On Thursday he appeared in court for sentencing before Superior Court Judge William C. Ryan, who sentenced Allan Carruth to 510 days in jail.
In total, Alan Carruth was paid more than $125,000 for services and products that he never fulfilled. Prosecutors say that Alan Carruth ripped off at least 42 couples who hired Carruth as their wedding photographer, but after their wedding day, the couples never heard from him again, and never got their wedding photos.
Alan Carruth operated as Alan Carruth Photography and also Alan Brent Photography in Los Angeles, California. According to a Los Angeles County Consumer Affairs investigation, the eight couples who were willing to testify against the photographer said they met Carruth during various bridal shows in the Los Angeles area, but they never imagined that several months, and in some victims cases, several years later, they never got their wedding photos... the only physical memories of their once in a lifetime special day.
In addition to being sentenced to 510 days in jail, Judge William C. Ryan also ordered that Alan Carruth hand over all of the newlyweds wedding photos, pay each of the victims full restitution, and Carruth must also pay $19,542 for investigative costs accrued during the LA County Consumer Affairs investigation.
Judge W.C. Ryan has also ordered that Alan Carruth be placed on five years of probation to follow his jail sentence, during which time Carruth is prohibited from operating Alan Carruth Photography, or working as a wedding photographer in any capacity.
The initial investigation into wedding photographer Alan Brent Carruth began over a year ago after the LA County Consumer Affairs began receiving several complaints and found at least 42 complaints in total on an online Complaint & Review Board where several newlyweds left reviews and complaints against Carruth, citing that he never delivered their wedding photos, and some couples saying that he sent another less qualified photographer to photograph their wedding rather than showing up himself.
One commenter on the board, a newlywed couple identifying themselves as Keith and Alina said "My wife and I will never have these memories of our wedding... and he [Allan Carruth] nor his family could care less.
Alan Carruth is ordered to provide the victims wedding photos, pay victim's restitution, investigation costs and surrender for his jail sentence by the end of this month.
OTHER ARTICLES TRENDING IN TODAY'S WEDDING NEWS:
Subscribe To TyingTheKnott Wedding News RSS Feed - Subscribe Here
To comment you must be a member of TyingTheKnott.com or Sign-In With Yahoo, Google or Twitter Using The Links Below. Not a member? Its quick easy and free to join and use everything on this website, take 30 seconds to SIGNUP HERE and return to this article from our news section on our homepage to post your thoughts, opinion and answer our question of the day. You Can Also Comment Using YAHOO HERE Sign-In With GOOGLE HERE or Comment by Signing In With TWITTER HERE -- Comment below this article, and use the blue toolbar below to share any article on other social sites.