Kris Humphries: My Wife Kim Kardashian Is A Witch - Kardashian Partied On Halloween Without Humphries. TyingTheKnott.com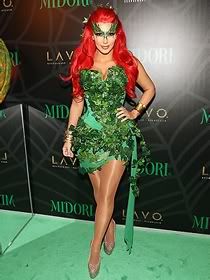 Sunday, October 30th, 2011
Article By: Phillip Brunelle
NEW YORK, NY  --  Kim Kardashian partied club Lavo in New York on Saturday night, slipping into a green bodysuit and red wig as Batman bad girl Poison Ivy at a Midori-sponsored Halloween party. Kim Kardashian's husband of nine weeks, Kris Humphries, was not in attendance.

Kardashian said she will be in Australia tomorrow, and "I'm in New York alone tonight," she explained as she brushed off divorce questions.

While there has been a lot of speculation that Kim Kardashian and Kris Humphries are getting a divorce, Kardashian insists that these are all just rumors, but sources close to both Kardashian and Humphries say otherwise, and tell TyingTheKnott.com that the couple is not doing as well as Kardashian is saying.

Last week, Kim Kardashian was seen without Kris Humphries, again, as she partied alone and attended a photoshoot dressed in a Halloween costume that gave Humphries a free pass to say that his wife's a witch.


The newlyweds are facing another challenge: TMZ reports that Kris Humphries, 26, believes he was bilked out of hundreds of thousands of dollars by Boston hedge fund manager Andrey C. Hicks, a guest at the couple's wedding extravaganza in August. After several reports surfaced about the fraud, Andrey Hicks was arrested last week.

Kardashian wouldn't discuss the matter. A rep for her husband says, "Kris Humphries is a victim of an investment fraud. He is working with law enforcement authorities and will not have any further comment until the matter is resolved."
Until Kim Kardashian or Kris Humphries confirm the latest divorce talk, we remain on the divorce watch, but if people are creatures of habit, it wouldn't surprise anyone if the newlyweds are headed for divorce in the near future.
What Do You Think? Will Kim Kardashian and Kris Humphries Get A Divorce? What Were You Dressed Up As This Halloween? Share Your Opinion and Join The Conversation In The Comment Section Below. Join TyingTheKnott.com Here or Comment By Signing In With Your Yahoo or Your Google account or Comment With Your Twitter account.
You Can Also Comment Using Our Facebook Comment Section Here:
OTHER ARTICLES TRENDING IN TODAY'S WEDDING NEWS:
Subscribe To TyingTheKnott Wedding News RSS Feed - Subscribe Here