GENE SIMMONS & SHANNON TWEED ANNOUNCE WEDDING  
Article By:  Phillip Brunelle    -    National Wedding News     -    www.TyingTheKnott.com
Nearly three decades in the making, Gene Simmons, from the popular rock band KISS, and his fiancé Shannon Tweed are taking their relationship to the next level after finally setting a wedding date, and the couple will soon be Tying The Knott in Beverly Hills, California. Simmons and Tweed will now be amongst the growing list of 2011 High Profile Celebrity Weddings.
Gene Simmons and Shannon Tweed are quickly planning the details of their wedding, which is scheduled to take place on Saturday, October 1st, 2011 at The Beverly Hills Hotel, an iconic upscale hotel located on Sunset Boulevard in Beverly Hills, California. How do we know? Well... Tying The Knott has an invitation to the Simmons & Tweed wedding, and of course we're going to share it with you.
The wedding invitation is complete with a sarcastic wedding announcement from their kids, which says: "After 28 years of loose strings, our parents have finally decided to tie the knot. Our mother will share our horrendous hyphenate of a last name and our father's life... well, it doesn't change that much."

The heartfelt wedding announcement from their kids continues on saying: "But we will be united as a family in spirit and in title forever. There will no longer be a Team Tweed or a Team Simmons, but instead a Team Tweed-Simmons, and as annoyingly long as that is, we hope you're on it."
And yes... we have the wedding announcement to share with you too... But don't try printing out the complete wedding invitation and showing up to the Gene Simmons & Shannon Tweed wedding, there will be tight security during the couples wedding. Here's the kids announcement below...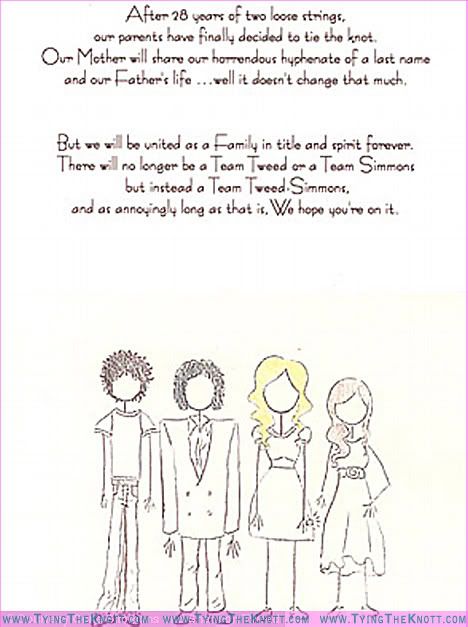 The couple, who live in Beverly Hills, both had several high-profile relationships before they met almost 30 years ago. Gene Simmons had long-term relationships with both Cher and also Diana Ross. Shannon Tweed had a brief relationship with Hugh Hefner during the time she was Playmate Of The Year in 1982. Prior to this, Tweed was in a relationship with Canadian Football League player Ron Foxx who played linebacker for the Ottawa Rough Riders.

Gene Simmons and Shannon Tweed have two adult children together, a son, Nick, 22, and a 19-year-old daughter, Sophie. The 62-year-old rock star and the 54-year-old former Playboy Playmate met in 1984 and began living together the following year.

The Tweed - Simmons family stars in the A&E reality show Gene Simmons Family Jewels. The season finale of the last season ended with a proposal and the new season will begin with the lead up and preparations for the October 1 nuptials. The season premier will air on October 4 on A&E.

From a Rough Rider.. To Hefner's Playmate Playdate.. To the Rock Star lifestyle of the Rich & Famous.. Shannon Tweed is Tying The Knott and leaving the past behind to begin a journey in life together as the soon-to-be wife of Gene Simmons. We wish you the best - Phillip Brunelle ~ www.TyingTheKnott.com
Get More Wedding News Daily With Our

Tying The Knott RSS Feed  Subscribe Here

To comment you must be a member of TyingTheKnott.com or Sign-In With Yahoo, Google or Twitter Using The Links Below. Not a member? Its quick easy and free to join and use everything on this website, take 30 seconds to SIGNUP HERE and return to this article from our news section on our homepage to post your thoughts, opinion and answer our question of the day. You Can Also Comment Using YAHOO HERE Sign-In With GOOGLE HERE or Comment by Signing In With TWITTER HERE -- Comment below this article, and use the blue toolbar below to share any article on other social sites.