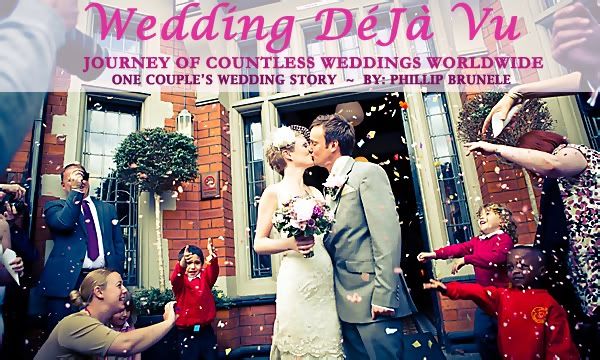 A Couple Getting Married Over-and-Over Again In The Most Unique Wedding Destinations Around The World... It's A Journey of Love and Marriage and One Couple's Story of Wedding DéJà Vu. 
September 14th, 2011  ~  Article by: Phillip Brunelle  ~  www.TyingTheKnott.com  ~  Wedding News 
Many couples invest up to two years of their lives planning their once-in-a-lifetime wedding day, but there's one couple who doesn't want to settle for just one day... Instead, this couple is investing the next two years of their lives getting married... over-and-over again. They're turning their once-in-a-lifetime wedding day into a world-wide-tour of Wedding DéJà Vu.
The adventurous couple, Alex Pelling, 31, and Lisa Gant, 29, both formally from Manchester, Didsbury, currently reside in Yorkshire, a historic county located in northern England. This is where for nearly ten years Alex Pelling owned an auto body repair shop, which he says "has been fun, had its ups and downs, but I knew it wasn't really what I wanted to do with my life."
Perhaps he was distracted? Throughout his duration in the automotive industry, Alex Pelling says that he had a deep interest in Lisa Gant. "It took me almost 10 years to get her but she was worth the wait".
Alex Pelling said he will never forget the day when he met and fell in love with Lisa. "She stood against a green radiator, with waist length light blond hair (natural not peroxide!) in a mustard yellow top, washed out denim blue flairs and red pumps on her feet… It was like been on acid checking out a really sexy Tinkerbell." Pelling said. It was within that moment that Alex knew he had to have Lisa. "She was perfect for me. She took my breath away" said Pelling.
The rest is history, Alex got his dream girl, Lisa, and now the couple has set off on a journey of love and marriage... or should  I say marriages. Alex Pelling considers himself to be creative, a bit compulsive and spontaneous at the same time. He was so excited when Lisa agreed to marry him that he could not settle for just one dream wedding, so the couple has decided to live-out their wedding dreams around the world.
Over the next two years, Alex Pelling and Lisa Gant are planning one wedding after another, with each of their weddings taking place in the most unique destinations they can find around the world.
Their Wedding DéJà Vu Began in their hometown of Didsbury, England. This was a secret wedding that Alex Planning planned out himself and Lisa Gant said "It was a complete surprise to me".
The couple then traveled to Sutton, Quebec - Canada. A common interest shared between Pelling and Gant is wine, and this love of wine is what kicked off the couple's journey, beginning with a wedding at the Chapelle Ste. Agnes, a vineyard that specializes in ice wines.
From their wedding in the wine vineyards of Chapelle Ste. Agnes, the couple traveled to the United States, where they took a ride on a small motorboat out to a rock in the middle of lake. That's right, Alex Pelling and Lisa Gant experienced Wedding DéJà Vu in Watersmeet, Michigan where they continued their journey of worldwide weddings on a rock they found in the middle of Honeymoon Lake.
Next stop... Canada! Wait, haven't they already been there? If you're feeling a little DéJà Vu then you're just starting to get a taste of the journey that awaits Alex and Lisa. The couple said I Do... Again in Banff Alberta, where they had a romantic horseback wedding in the Canadian Rocky Mountains.
Alex Pelling and Lisa Gant then continued traveling around Canada from one destination to another, with weddings in Quebec, Toronto, Montreal, Ottawa and in Vancouver. Before they bid farewell to Canada, Alex and Lisa had one last Canadian wedding... at the Vancouver Airport!
"I managed to get in touch with Jaeger Mah" said Lisa Gant. "We asked him to perform our wedding ceremony for us, and he agreed". Jaeger Mah has been in many News Headlines in recent days after declaring that he will be living in the Vancouver Airport for eighty days. Jaeger Mah, a unique man, officiated the couple's unique wedding in the middle of the terminal by the Haida Gawaii statue, surrounded by a crowd of curious onlookers, who applauded the couple's sixth wedding ceremony. 
The couple said they're planning on having at least thirty weddings within the next two years, and although they don't have an exact itinerary for their future travels, with Alex Pelling's spontaneous nature, you never really know just where they might find themselves getting married next. During one of our interviews, Lisa Gant told Phillip Brunelle, Journalist and founder of TyingTheKnott.com that "there could be many more than 30 weddings... Who knows, we might just break a world record."
A spokesperson from Guinness World Records, Stuart Claxton, said that there isn't a category that would be applicable for the many weddings of Alex Pelling and Lisa Gant. Guinness has been in touch with the couple, and while there are many existing categories for World Record Weddings, Claxton said although Pelling and Gant are taking part in countless wedding ceremonies around the world, because they're not leaving behind an actual certificate or license of marriage in each destination, they would not qualify to compete for a new world record for the most marriages. An actual marriage license will not be in place until their final wedding.
The journey of love and marriage for Alex Pelling and Lisa Gant began in June, 2011 and is just getting started. Over the next two years Alex and Lisa will be traveling the world, planning new adventures and searching for the most unique wedding destinations along the way. The couple is currently in Hawaii, where they are planning their seventh wedding. Some of their future wedding destinations include further travels across the United States, South America, Chile, Europe, South Africa, India, Asia, China, Russia, Japan, Indonesia, New Zealand and Australia. Stay tuned to Tying The Knott Wedding News as we continue to bring you more details of this story.

Alex and Lisa will be checking in often to read comments from our readers, and before their journey is over, the couple said they will be randomly choosing one lucky person to experience their Wedding DéJà Vu with them, in person... They will pay for your airfare and hotel accommodations for a weekend getaway to experience their final wedding! All you have to do is comment below, share your thoughts, wishes or even suggest a unique destination for the couple to consider for one of their many weddings over the next several months, and your comment or suggestion just might send get you a free weekend vacation to a destination to be announced later, but it very well could be down under... but it's not written in stone yet.
To participate in this free giveaway getaway, you have to be over 18 years of age, provide your own transportation to and from your local airport and pay for your food while there, but Alex and Lisa will cover the expenses of your airfare and hotel accommodations to take part in their final wedding! To enter, all you have to do is simply comment within the comments section below. To comment, you must be a member of Tying The Knott, but not to worry, it's FREE to Join and Use this website, so JOIN HERE and then leave your comment below, and you may be the one chosen to be present for the end of Alex and Lisa's Wedding DeJa Vu with Travel and Accommodations compliments of Alex and Lisa!! Increase Your Chances of Winning A Free Trip To Alex and Lisa's Final Wedding by Commenting Below & Also by Visiting Their Blog HERE For More Details!

To comment you must be a member of TyingTheKnott.com or Sign-In With Yahoo, Google or Twitter Using The Links Below. Not a member? Its quick easy and free to join and use everything on this website, take 30 seconds to SIGNUP HERE and return to this article from our news section on our homepage to post your thoughts, opinion and answer our question of the day. You Can Also Comment Using YAHOO HERE Sign-In With GOOGLE HERE or Comment by Signing In With TWITTER HERE -- Comment below this article, and use the blue toolbar below to share any article on other social sites.
Article by Phillip Brunelle - Founder of TyingTheKnott.com - Journalist For TyingTheKnott Wedding News. Contact Us For Permission To Redistribute Any Material Within This Article. © 2011 www.TyingTheKnott.com