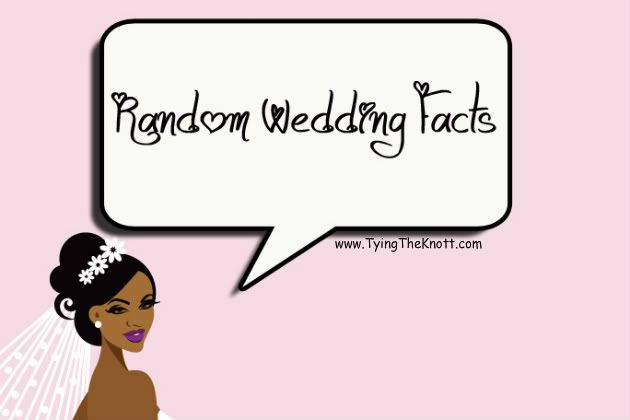 Have you ever wondered why things are they way they are at a wedding? For example, why does the bride stand on the left? Why is the ring worn on the 3rd finger of the left hand?
Here are a few wedding facts and history of wedding traditions.

*  Why Does the Bride Stand on the Grooms Left?
Wedding lore tells us that hundreds of years ago, kidnappers often absconded with the bride in order to steal her dowry. So, in order that the groom might keep his sword arm free, the bride stood on the other side - the left. Today, in spite of the fact that the groom rarely wears a sword, nor needs to fend off attackers, you'll almost always see the bride standing on the groom's left. It's also traditional for wedding guests to follow suit - the bride's guests and family sit on the left, while the groom's family and guests sit on the right.

* The Bouquet
For ancient Greeks and Romans, the bouquet was a pungent mix of garlic and herbs or grains. The garlic was supposed to ward off evil spirits and the herbs or grains were to insure a fruitful union. In ancient Poland, it was believed that sprinkling sugar on the bride's bouquet kept her temper sweet.

*  The First Kiss
The first kiss a bride and groom share at the close of the ceremony has carried special significance through the centuries. Many cultures believed that the couple exchanged spirits with their breath and part of their souls were exchanged as well.

* The Ring Finger
The wedding ring has traditionally been worn on the third finger of the left hand because it was believed that a vein in this finger ran directly to the heart. The third finger of the left hand has become the customary wedding-ring finger for all English-speaking cultures.

* The Wedding Cake
This has always played an important part in the wedding. Ancient Romans broke a cake over the bride's head to symbolize fertility or abundance. Many other cultures dropped wheat, flour or cake on the bride's head, and then ate the crumbs for good luck. The early British baked baskets of dry crackers, and every guest took one home after the wedding. In medieval times, guests brought small cakes and piled them on a table. The bride and groom then attempted to kiss over the cakes. Eventually, a young baker decided to put all the cakes together and cover them with frosting, thus the tiered wedding cake was born.
Article by:   Rev. Frank Girello   -  Do you have any more wedding facts or history of wedding traditions to share? Comment below or Send them to me through my web site http://www.ReverendFrank.com