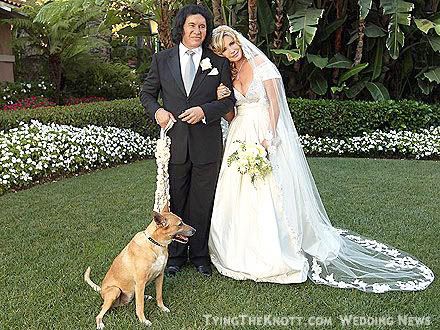 Gene Simmons and Shannon Tweed Are Newlyweds, But Was The Proposal and Wedding Just To Increase Ratings For Their Reality TV Show Gene Simmons Family Jewels? TyingTheKnott.com Has All The Simmons Tweed Wedding Details, From The Proposal To The Marriage - Photos and Video.
Friday, October 7th, 2011
Article By:  Phillip Brunelle
HOLLYWOOD, CALIFORNIA  -  After 28-year-long relationship as an unmarried couple, Gene Simmons and Shannon Tweed are officially married as of this past weekend. Will Simmons and Tweed really live happily ever after, or was their engagement and wedding just a publicity stunt to increase the ratings for their reality television show Gene Simmons Family Jewels...?
Gene Simmons and Shannon Tweed claim that the marriage proposal happened "months ago" but they kept their engagement a secret for the season finale of their reality show which aired on July 26th, 2011. If you're just tuning in, check out the scene from Gene Simmons Family Jewels when Simmons proposes marriage to Shannon Tweed during a vacation in Belize.
Shannon Tweed said that the proposal was shocking and a complete surprise, and she tweeted that Gene Simmons' marriage proposal was "the most shocking moment of my life". Although Simmons and Tweed did go through with their October 1st wedding, there are many questions that remain as to the authenticity of their marriage, and TyingTheKnott.com Is questioning whether or not the proposal and wedding was just a publicity stunt for the television ratings.
While questioning Simmons and Tweed's marriage authenticity may seem harsh to some, keep in mind that the couple has put their own lives and relationship under the microscope of society with their reality television show, and there is enough content within this show, and comments made by sources that are close to the Simmons-Tweed family that warrant questioning of their recent marriage.
Gene Simmons and Shannon Tweed have been together for nearly three decades and have raised two children together, who are now both adults, Nick, 22, and Sophie, 18, and they have done so unmarried. In fact, they have told People Magazine that they are Happily Unmarried back in 2007. So what brought upon the sudden change of heart for Simmons to propose to Tweed?
In the past year the couple has been rumored to have been going through some tough relationship problems, which was later revealed as being true when the events of their hardships unfolded throughout the episodes of their reality show. I thought when you want to make up after a fight in a relationship you do something nice, like flowers or dinner to talk things over, but I guess Gene Simmons thought the best way he could make up for the couple's troubles was to plan a romantic vacation to Belize and rather than flowers, Simmons must have felt that a 27-carat Goel Talasazan engagement ring would bring them closer together... which it certainly did on October 1st when Simmons and Tweed said "I do".
It sure is a beautiful engagement ring, but I wonder if Shannon Tweed knew that ring came with strings... known as a pre-nup! Marriage should be considered as an act of faith with unconditional love... not an act on a reality television show with a free trip to Belize where Simmons proposed, followed by an engagement ring and wedding rings that were also sponsored... along with the rest of their wedding.

If you follow Shannon Tweed on Twitter you may have noticed tweets such as the one shown above, and it's these sponsored tweets which coincide with the couples free trip to Belize, and other freebees they got for their wedding. Very much like Kim Kardashian and Kris Humphries wedding where not only did their wedding turn out to be free, but Kardashian and Humphries banked nearly $10MIL in additional cash and free things even after the wedding expenses were taken care of with a nearly $20MIL wedding pay day.
Maybe Simmons and Tweed wanted to jump onto the wagon with the rest of the celebrities and other high profile weddings in recent news after seeing how much other celebs were paid and all the free things they got, or maybe they did it just for their reality show, or maybe both... but whatever their reasons, how do you go from a nearly three decade relationship as a self-proclaimed happily unmarried couple, to a high profile wedding with pre-nup strings attached?
Just as we have uncovered details in the Kim Kardashian wedding, it's only a matter of time until we do the same with the Simmons Tweed wedding. Don't get us wrong, we do wish the couple the best and all of the love in the world together, but something just smells a little like a publicity stunt with this sudden marriage.
RELATED ARTICLES TRENDING IN WEDDING NEWS TODAY:
Tying The Knott Wedding News - Subscribe To Our RSS News Feed
To comment you must be a member of TyingTheKnott.com or Sign-In With Yahoo, Google or Twitter Using The Links Below. Not a member? Its quick easy and free to join and use everything on this website, take 30 seconds to SIGNUP HERE and return to this article from our news section on our homepage to post your thoughts, opinion and answer our question of the day. You Can Also Comment Using YAHOO HERE Sign-In With GOOGLE HERE or Comment by Signing In With TWITTER HERE -- Comment below this article, and use the blue toolbar below to share any article on other social sites.