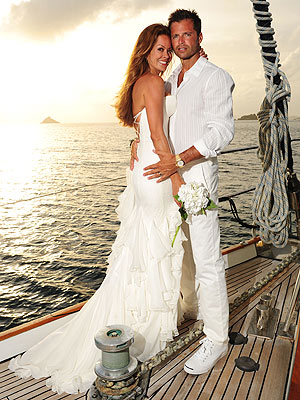 "It is not often that you get to plan a very special occasion, and have it play out just as you imagined in your mind," Brooke Burke writes in a blog post for her parenting website, Modern Mom. "Even the weather was perfect." Burke continued on, describing the celebrity wedding as a "Secret Mission" she adds, "We told no one – no friends, not even our mothers. … We broke the news to our children just days before our departure."  
Brooke Burke and David Charvet tied the knot aboard a sailboat anchored offshore a private beach in St. Barts with the sonority of sentimental music playing beneath their heartfelt wedding vows.

As her dreams transmuted into reality, Brooke Burke was dressed for the occasion. The stunning bride stole the attention from the breathtaking picturesque tropical horizon as she gazed into David's eyes, wearing a wedding dress designed by Mark Zunino and diamond studded heels by Jimmy Choos.
To maintain the secrecy of their wedding, the groom, David Charvet, brought Brooke's designer wedding dress and shoes to the sailboat in the middle of the night, the day before the wedding, and successfully avoided paparazzi and any suspicion of the couples wedding plans just hours later.

"I felt incredibly peaceful, certain, and blissfully happy," Burke writes. "In my soul, I was already married. Making the spiritual commitment to exchange vows in our favorite place, in front of our four children, with my soul-mate seemed like a real-life fairytale."
The celebrity couple has been engaged since 2006, and although Burke says that she was content with their life without the sacred vows of marriage, she went along with the plans for their secret wedding. Many of us wonder the reason of the lengthy engagement and the sudden change of heart to go from being content to saying I Do, and Burke had this to say...

"I was happy with how things were," Burke writes. "But something changed this past year. To stand with David in the middle of the Caribbean Sea and exchange our promise to one another seemed so powerful and meaningful. It was the greatest gift that I could give to us and to our children."
Is that the answer you expected, or does this leave a multitude of lingering questions for you as much as it does for us? What was this change of events in the past year? Brooke Burke may have successfully maintained the privacy she sought for her secret wedding, but with her personal life returning home, will it be as easy to withhold the secrecy of the changes that she implicated in her blog? Who knows... but that gossip remains open for another website, since here at TyingTheKnott we only value the celebrity wedding gossip.
Congratulations Brooke Burke and David Charvet - We wish you all the best in your lives together as a newly married couple, and we hope that whatever changes you experienced to influence your decision on getting married is of no reason to prevent a complete life of love and happiness for the both of you.  ~  Phillip Brunelle  - Creator & Founder of TyingTheKnott