A Pennsylvania bride and groom put a new meaning to hot hors d'oeuvres at their wedding reception in central Pennsylvania when they were arrested for served their wedding guests hors d'oeuvres that were a little too hot.
The groom, Arthur Phillips, and his bride, Brittany Lurch, went on a last minute shopping spree at a Wegmans Supermarket in State College, Pennsylvania. They loaded the cart with prepared finger foods and various groceries totaling over a thousand dollars, and then made their way right out the stores front entrance without ever paying for their food.
We all know how much stress there is with last minute wedding planning and how many things a bride and groom end up forgetting when they put off some details of their wedding until the day of their wedding, and this bride and groom, Phillips and Lurch, are no exception to this forgetfulness.
With all the excitement of their last minute wedding planning, the newlyweds not only forgot to pay for their first food order, but they also forgot about the large order of seafood delicacies. They couldn't imagine letting down the guests attending their wedding reception later that evening, so Arthur Phillips and Brittany Lurch went back into the Wegmans grocery store and placed that seafood order.
While their last minute order of seafood delicacies was being prepared, Phillips and Lurch made their way around the store a bit more, but the final touches being added to their latest food order was sure to be a wedding surprise for these newlyweds after security recognized the forgetful newlyweds from the incident just moments earlier, and they contacted the local police.
Security kept a close watch on the newlyweds as they awaited the arrival of police... and they may have been watching a little too closely, or perhaps the bride and groom just remembered other details for their wedding that slipped their minds, because the couple made their grand departure just moments before police arrived... But, wait!! You forgot your seafood order!
Not to worry, before they drove off to far, the police were able to catch up to the forgetful newlyweds to remind them of the seafood delicacies back at the grocery store, and not to mention the lavish wedding gift they wanted to present the couple, a beautiful pair of Tiffany silver bracelets!
In addition, the officers must have realized these forgetful newlyweds more than likely forgot to book a wedding photographer, so they provided this couple with Patton Township Police Department's finest photographer, and yes, we here at TyingTheKnott just had to see their wedding photo... and complete with her beautiful new silver bracelets, this bride looks absolutely stunned... oops, I mean stunning...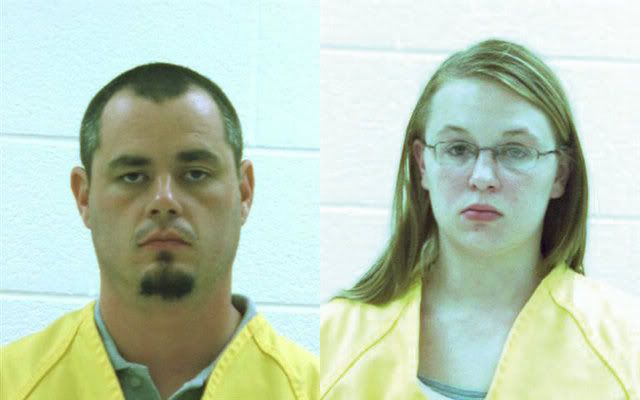 Arthur Phillips, 31, and his bride Brittany Lurch, 22, both of Centre Hall, Pennsylvania, were arrested for stealing groceries valued at $1,049.00 for their wedding reception, which was scheduled to take place the same evening, Patton Township Police Chief John Petrick said.
Security at the Wegmans Supermarket watched the entire event, as Arthur Phillips and Brittany Lurch stole over a thousand dollars in food for their wedding reception. "(It was) an array of stuff that someone might need for a wedding reception," including ham, turkey, cheese, vegetable platters, soda and utensils", Petrick said. "They admitted to stealing the items for their wedding reception that evening."
Arthur Phillips and Brittany Lurch were both charged with retail theft and receiving stolen property. They were taken to Center County jail, where they were each held with a $2,500 cash bail.
Guests attending the wedding reception that evening most likely thought the newlyweds forgot about the celebration... but to everyone's surprise... the forgetful newlyweds actually remembered where their wedding reception was scheduled that evening!! It's a good thing they remembered too, since they only had one phone call and it would have been a shame to waste it calling someone who isn't home because they are attending a wedding reception that evening... waiting patiently for their hot lobster tails to be served to them.
Arthur Phillips and Brittany Lurch unfortunately missed their wedding reception, but at least they remembered where it was and were able to reach someone there. The shoplifting newly weds also managed to get bailed out of jail. Unfortunately for their wedding guests, they missed the celebration... they must have forgot that the newlyweds changed their wedding reception venue to the Center County jail... and it's a shame they all forgot about the finger foods and seafood delicacies in the evidence room buffet.
There's no word yet on an attorney representing Phillips and Lurch and we forgot to reach the newlyweds for comment before publishing this story!
GET MORE WEDDING NEWS -- Subscribe To TyingTheKnott Wedding News RSS Feed and Stay Informed On The Latest Wedding News, Trending Wedding Topics, Celebrity and High Profile Wedding News -- Click Here To Subscribe
Share Your Thoughts and Comments Below - Click Here To Join TyingTheKnott and Become A Member of The Most Popular Social Networking
Wedding Community & #1 Source of Wedding News On The Internet!! Please Be Sure To Share This Story On Below Using Our Facebook LIKE Button, Tweet This Story On Twitter and See More Sharing Options By Clicking The Share Button. There's Also A Tool Bar On The Bottom of Your Browser With Sharing Options.