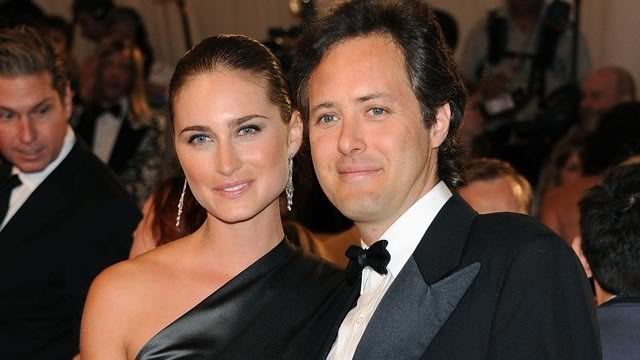 LAUREN BUSH & DAVID LAUREN'S WEEKEND WEDDING 
Article By: Phillip Brunelle   -  National Wedding News   -  www.TyingTheKnott.com
Lauren Bush has officially become a member of Ralph Lauren's family. The niece of former President George W. Bush tied the knot with the fashion designer's son, David Lauren on Sunday, September 4 at Ralph's 17,000-acre Double RL Ranch in the Rocky Mountains, and details of their lavish wedding have been disclosed.

The Bride, Lauren Bush, a 27-year-old model, wore an intricately embroidered Victorian-style wedding dress designed by her new father-in-law, Ralph Lauren, while her 39-year-old groom, David Lauren, sported a vintage Lincoln era-inspired tuxedo. Since the wedding had a black-tie-meets-Western theme, guests attending the Bush-Lauren wedding were dressed in cowboy boots, denim and turquoise jewelry.

Lauren Bush arrived on a horse-drawn carriage, and walked down the aisle with her divorced parents Sharon and Neil. The ceremony itself was conducted by Cantor Angela Buchdahl of Manhattan's Central Synagogue. A reception was held afterward at a nearby barn on a meadow with country singer Michael Martin Murphy providing the entertainment.

Among the 200 guests in attendance were former president George W. Bush, wife Laura and daughters Jenna and Barbara. Former Florida Gov. Jeb Bush as well as Ralph Lauren's family, including David's sister Dylan were also present. Missing out the big day, however, were Lauren's grandparents, George H.W. and Barbara Bush. The elder Bush's said because of the elevated climate of the wedding venue that it would be detrimental to their health had they attended, however they did send a video message.

With Lauren's groom having the same last name as her first name, there has been scrutiny over whether or not the bride would change her last name. "I think it will be Lauren Bush-Lauren," she said. "That's not final, but I think it's nice to have the same name as your husband. I am sort of old-fashioned in that way."
Get More Wedding News Daily With Our

Tying The Knott RSS Feed  Subscribe Here

Share Your Thoughts and Comments Below - Click Here To Join TyingTheKnott and Become A Member of The Most Popular Social Networking Wedding Community & #1 Source of Wedding News On The Internet!! Please Be Sure To Share This Story On Below Using Our Facebook LIKE and Twitter Buttons.