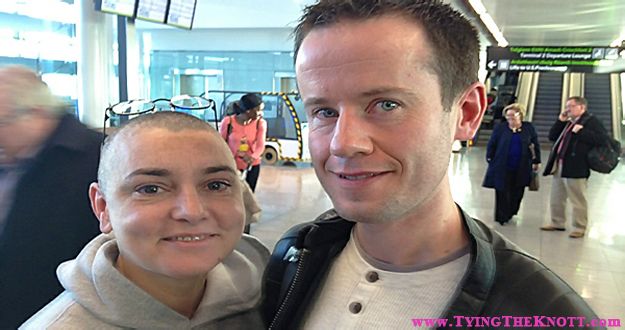 Singer Sinead O'Connor Got Married Thursday In A Las Vegas Wedding Drive-Thru On Her 45th Birthday - It's The 4th Wedding For Sinead O'Connor - Her Groom Responded To Her Graphic Personal Ad. Full Story On TyingTheKnott.com Wedding News.
Friday, December 9th, 2011
Article By: Phillip Brunelle
LAS VEGAS, NEVADA  --  The latest celebrity to get married before the end of 2011 is singer Sinead O'Connor, who is known for her hit song "Nothing Compares 2 U". Sinead O'Connor traveled to Las Vegas from Ireland for a Vegas style wedding on her 45th birthday, but who did she marry?
Her newlywed husband is Barry Herridge, who Sinead O'Connor met just a month ago, after placing a graphic personal ad on a singles website in Ireland. In her late August personal ad, Sinead O'Connor said that she was "desperate for sex" and looking for a new partner. On October 21st, not long after the ad was placed, Sinead announced she met a successful applicant, Barry Herridge.
More often than ever, celebrities, and many prominent and wealthy people have been meeting their partners through singles websites, but when you post an explicit personal ad like Sinead O'Connor, suggesting that you are out for sex and giving graphic details of sexual positions and requirements, could such a marriage really work? Especially in such a short time after meeting Barry Herridge; is a month really enough time to say that you are ready to commit the rest of your life to a near-stranger?
While Barry Herridge may be a near-stranger to Sinead O'Connor, marriage certainly is not. In fact, this is her fourth marriage - Maybe since the third wedding was not a charm, Sinead thought that a fourth wedding would be no harm?
"Getting married in Las Vegas has always been my dream since I was a little girl" Sinead told an affiliate reporter for TyingTheKnott.com. Sinead O'Connor and Barry Herridge had a non-traditional Vegas style drive-thru wedding on Las Vegas Blvd. at a wedding venue called A Little White Chapel.
They cuddled up together in the back of a pink Cadillac, Sinead wore a pink wedding dress and her newlywed husband Barry wore a matching pink shirt for the 15-minute wedding ceremony.
Maybe Sinead and Barry are a match made in heaven. Barry Herridge is a licensed therapist and may have earned his role as groom by coming to the aid of Sinead during a time when she was not just desperate for sex, but desperate to find her place in the world. In September, Sinead O'Connor raised the eyebrows of many fans when she posted several disturbing tweets, which suggested that the singer-songwriter was considering committing suicide.
After meeting Barry Herridge, Sinead made a public statement to her fans letting them know that she is okay, and will not commit suicide. Was this a publicity stunt to keep her name in the news during the time she was desperately seeking a partner through her sexually explicit personal ad?
Sinead O'Connor has four children from her previous marriages, and she describes her three ex-husbands by saying that they were "most likely happy to see the back of me". Sinead divorced her third husband Steve Cooney earlier this year in March, after only eight months of marriage.
We want to know what you think about this latest celebrity marriage. Do you think that it was a healthy decision for Sinead O'Connor to get married during an emotional time in her life - especially so close to the time she was contemplating suicide just a few weeks before she announced she was getting married? While we wish Sinead O'Connor and Barry Herridge all the best in their married life together, we can't help but to wonder if the marriage will work given Sinead's marriage track record and the bad timing being so close to a suicidal point in her life. But what do you think?
Share your opinion in the comment section below. Members of Tying The Knott can comment in the members comment section below, and if you're not yet a member you can Join Here- It's free and quick to signup - or you can comment using the Facebook comment section just below here...
You Can Also Comment Using Our Facebook Comment Section Here:
OTHER ARTICLES TRENDING IN TODAY'S WEDDING NEWS:
Subscribe To TyingTheKnott Wedding News RSS Feed - Subscribe Here